Ever since Trump ran for the presidency back in 2015, his main goal and motto were to Make America Great Again, with an America-first policy. Unfortunately, it also involved using a number of policy revisions and legislation to slow immigration process, bound companies to invest, retain and manage their workforce operations in the US, and hire American workers.
Fast forward 9 months in the presidency, it seems like that there might come a time when President Trump grabs the US firms outsourcing jobs to Pakistan, India and other Asian countries, sooner than later.
While Trump has not taken any concrete action so far on US companies outsourcing jobs, his winning to power is enough to stir the global markets. A number of leading IT companies in India and Pakistan have already started suffering by not getting big projects, which otherwise would have been termed as cash cows. As a result, it has lead to massive downsizing, layoffs and staff cuts in order to compensate for lower cash flows.
Some of the top companies in Pakistan, NetSol, MindBridge and Confiz have repeatedly downsized their workforce in hundreds. While the actual number is unknown due to confidentiality, it makes sense to understand how severe the impact can be.
Before we further dig down on how Trump administration affect IT and outsourcing companies in Asian countries, let us break down country-wise and have a look at the outsourcing statistics of 2017:
Statistics on Global Outsourcing Trends 2017
Payoneer, a leading international payment gateway for freelancers, entrepreneurs and small businesses, recently conducted a survey and placed the results on its blog. The following graph is extracted from the survey results: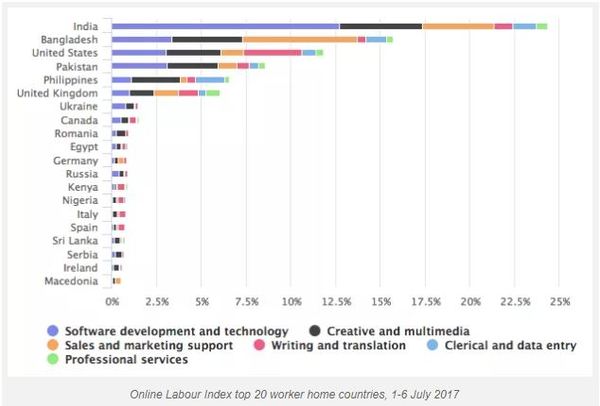 It's clear. India is leading the pact, with most of the software development and technology services, followed by creative and multimedia being outsourced to. With a population of over 1.2 billion, it comes as no surprise that India is on the top of the list.
Next come Bangladesh and USA, both of which are also leading the race in the software development and creative services, however former is winning in terms of sales and support, whereas the latter is winning writing and translation jobs.
On the list, number 4 belongs to Pakistan with a sizeable chunk in software development and creative services.
With a competitive and low-cost labor, Asian countries are dominating the freelance and outsourcing landscape. A $1,000 monthly earnings for a freelancer in Pakistan is a win-win situation for the contractor as well as the employer, who may end up paying over $3,500 for the same job in the US/UK or any other developed countries.
How the Donald Trump Presidency and Administration severely hurt outsourcing trends?
Now that is an important question to ask. CNBC, in its article dated 30th January, 2017 stated that Trump administration has already started looking for reforming the H-1B visa policy for Indian immigrants, which make the majority of the brightest minds in Silicon Valley.
According to the U.S. Citizenship and Immigration Services, the H-1B visas are for highly qualified professionals working in any one of the following fields:
Scientists
Engineers
Computer programmers
Currently, the quota for visa allotment stands at 65,000 regular H-1B visas every year, allocated through the lottery system. Most of these visas go in fulfilling jobs at the tech sector.
But in the near future, this could change. The Trump administration is looking to either forgo the lottery system or reduce the number of visas allotted, which could impact the US remittance to India and other countries like Pakistan and Philliphines, severely.
In February, 2 US Congressmen introduced a reform bill for the H-1B visas, insisting that workers pay $100,000, on fees, increased from $60,000. it also removed the Master's degree exemption, which means that now the H-1B visa holders will also be required to have a Master's degress. In a rather rare incident, the US Labour Department also sued the Oracle company blaming it hiring Asian Indians than white, hispanic and african-americans.
This type of cases is perhaps the beginning of what might be expected in the long run. But why this could be worrisome for India? It's because the country's software services accounted for $82 billion-worth of exports in the financial year ending in March 2015, according to the Reserve Bank of India; 60% of that figure came from North America.
Tata Consultancy Services, Wipro, and Infosys are among the most users of the H-1B visas. Trump always disliked hiring cheap Indian workers and instead is now insisting the companies buy, produce and hire local workers, despite rising operating costs.
In a set of points, here is what could happen if the Trump administration gets tougher on its outsourcing stance:
India, Pakistan and other Asian countries may eventually feel the pressure to move out and look for clients and companies outside the US.
Local companies in India and Pakistan, solely relying on revenues earned from outsourcing services, will feel the biggest blow in terms of shrinking revenues and increasing losses as they are at the biggest and direct risk. This, in turn, would lead to layoffs and downsizing, increasing unemployment in the IT sector.
Companies with a mixed set of product/service offering to US, UK, Australia and clients from other countries will be much better off as they already have diversified their risks. Moreover, providing services locally may eventually save them from getting bankrupt in the long run.
Despite having a population of over 340 million, it is getting hard for the US to curb the demand-supply gap of 3.5 million Science, Technology, Engineering and Mathematics (STEM) graduates in the US. This means, that the only option for them is to rely on hiring foreign graduates and workers via the H-1B visa.
Conclusion
Even at this point in time, it is quite irrelevant to say how things might change in the course of the entire Trump presidency. Our suggestion to IT companies in India and Pakistan is as follows:
Don't put all of your eggs in one basket. Diversify your risks and look for markets elsewhere, not just in the US.
Offer services from writing, designing, software development to sales support.
Look for work in the local market as well. Solhut is a Lahore-based IT company and in our city with a bustling population of over 12 million, a number of IT companies are working among each other. We also work with a number of local companies using our Restaurant Management Software, custom website development services, etc. Albeit, local revenues per client aren't as high as working for US clients, this does ensure safety and security in terms of revenues and job.
Relax, and don't act in panic. Markets always react due to uncertainty, however always have a backup plan.
References:
https://www.cnbc.com/2017/01/30/india-news-trump-h-1b-visa-reforms-could-affect-viability-of-india-outsourcing-companies-according-to-nomura.html
http://economictimes.indiatimes.com/tech/ites/india-it-firms-brace-against-anti-outsourcing-sentiment-after-trumps-inaugural-speech/articleshow/56726265.cms
http://www.indiainfoline.com/article/news-top-story/the-impact-of-donald-trump-s-presidential-win-on-the-indian-outsourcing-industry-116111000556_1.html
http://www.indiainfoline.com/article/news-top-story/the-impact-of-donald-trump-s-presidential-win-on-the-indian-outsourcing-industry-116111000556_1.html
http://www.indiainfoline.com/article/news-top-story/the-impact-of-donald-trump-s-presidential-win-on-the-indian-outsourcing-industry-116111000556_1.html